The morning after…
Well, in this case it's more morning(s) after…  Wow – where to start???  We had an incredible run of shows over the weekend so we'll do this in chronological order:
Starting Saturday afternoon at the Ship & Anchor we "hosted" the afternoon jam.  Not really a typical "jam hosting" but we did our show with some jammers between sets.  It's been a long time since we've played this venue and really we'd forgotten how great of a room the Ship is.  This place is geared towards live music and the people that attend are there to be entertained and are incredibly appreciative of the music provided.  With seating right up to the stage, it was packed which was a pleasant surprise for a Saturday afternoon and despite the bizarre feeling of starting a show with the sun barely up for us (2:00 pm…lol) the band was definitely firing on all cylinders.  The buzz from the audience was nothing short of amazing, so a huge thank you to the management for bringing us in for this but mostly to the crowd for kicking us off in the best way possible for this gruelling weekend.  It definitely put us in the right frame of mind for the upcoming shows – we hope to be back soon.  Thank you Ship & Anchor!
From there we had a rushed trip up the road to Jameson's on 17th Ave.  This is a pretty new venue and we believe we're the first band to play here.  Very rock-star show with line up's around the block and we were told hours of waiting.  An absolute zoo down here and in typical Fraid Knot hilarity we had to pull another first and swap merch to a local shop owner to allow us to park in their lot and not get towed away.  (Quick thinking Danny and a HUGE shout out to the framing shop on 17th Ave for saving us…lol)  The crowd at Jameson's was definitely there to party and party they did packing the dance floor from the opening song until the last chords rang out for the night.  We hope everyone in attendance had as much fun as we did and apologies to those who couldn't clear the queue.  Our phones were exploding with texts, phone calls, Facebook messages and e-mails to the site to try and help people stuck in the line up but unfortunately due to the fire regulations our hands were tied – sorry.   We'd also like to say a big thank you as well to the pro audio/lighting company and crew on hand that were brought in for this event to look after us.  We didn't even get a chance to thank the guys on the crew due to the crowds and pandemonium of trying to get out of the venue after our show.  Speaking of which – it's so nice to have our security at these events to help us out!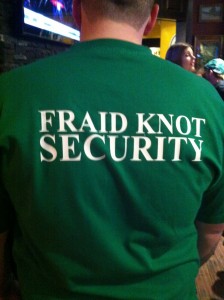 Rounding off the weekend we headed into the main event – St. Patricks Day.  Once again the James Joyce on 8th Ave. was the place to be.  Despite the unseasonably cold and snowy weather and the fact that it was a Sunday some people were there for even longer than our 12 hour performance.  Wow – respect!  It was great to see so many people brave the elements to make it down and share our big day with us but I guess you wouldn't cancel Christmas because of a little snow would you???  It's awesome to see a lot of the same folks that make it out to this great party year after year and probably the highlight for us was the dance floor packing with the incredible staff of the Joyce for our last encore – you guys & gals are amazing!  Needless to say as fun as this day always is, 12 hours is a long shift to be playing music and you can be guaranteed we are all feeling the effects today with sore throats, fingers, legs, etc. but SO worth it!  After all these years the Joyce feels so much like home for us on this day and the support we get from the owners, management, staff and crowd make this all worthwhile so thanks again for everything this year!
We hope everyone had a safe and memorable weekend and start resting – it's only 364 days until we'll do it all again….
Sociable!!!!!!!!!!!